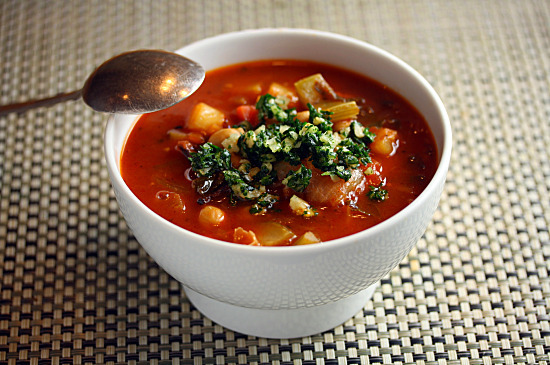 (this is NOT my photo, photo can be found
here
)
Ok, it's not really that cold today....it was 60! But it WILL be!
I forgot to take a picture of my minestrone, so I found one that looked similar online.
The other day I was at Whole Foods and I bought their Tomato Basil Soup (in a container) and then I thought...."Hmmm, I could really add to this!" And I did.
1 container (24 oz) of Whole Foods Roasted Tomato Basil soup (or other roasted tomato soup)
~10-15 oz of pureed tomatoes (depending how liquidy you like it)
1/2 small yellow onion, chopped
2-3 large kale leaves, chopped
1 cup dry small pasta shells (I used corn pasta)
1 15-oz can canellini beans
In a medium soup pot, add about 1/4 cup water, along with the celery, onions, and carrots. Cook on medium until onion is almost translucent, about 5-8 minutes. While that's cooking, cook the pasta al dente (it will cook a little more in the soup). Drain.
Add the soup, pureed tomatoes, kale, pasta, and beans to the pot. Bring to boil, and then cook on medium (covered) for about 6-8 minutes until completely heated through. Add seasoning to taste.
Optional: serve garnished with shredded vegan mozzarella.
Enjoy! We both thought this was an excellent soup! I will definitely make it again.
And with winter coming, this is a great addition to your recipe box! What's your favorite winter soup?
Eat smart,
T.